Below are some details of our product. Please read the details carefully.
The tests that we sell are download files, NOT a book. After payment you are directed to the download page where you will have access to all the files – written files in PDF format and the audio in mp3 format. When you have downloaded the files you can print out the PDF files and listen to audio files from your computer or cut a disc. Therefore there is no delivery time. You get the tests straight after payment. All practice test sets are up to date with IELTS Standards 2021. Download free samples of practice tests here.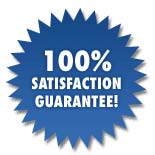 Your satisfaction with our practice tests is our #1 priority. If you aren't 100% happy with any aspect of our tests, please email us within 60 days of purchase to receive an instant and full refund. There is no risk involved in your purchase – we guarantee your complete satisfaction, or your money back.
The product that we sell contains:
* 15 or 30 IELTS question papers (with the listening, reading, writing and speaking sections – Academic or General Training Modules)
* 15 or 30 audio files containing the recordings for the IELTS listening sections
* 15 or 30 written tape scripts for the IELTS Listening Tests with the answers highlighted to help you check the answers
* Answer sheets for all the IELTS Listening and Reading Tests
* 15 or 30 reading help sections with explanation for all Reading Tests' answers
* 15 or 30 Audio files with example recordings of real IELTS students doing the sample practice Speaking Tests with written reports by an IELTS examiner
* Example IELTS essays written by IELTS students and teachers for all the IELTS Writing Test questions with written reports by an IELTS examiner
The downloading of the files takes various amounts of time, depending on the speed of your internet connection. With a broadband connection, the PDF's take a matter of seconds.
The cost is US$ 42.96 for the fifteen tests, and US$ 76.98 for 30 tests. At present we can only accept payment by credit cards, debit cards and PayPal. The transaction is all done by 2Checkout.com/PayPal.com and therefore gives the best of security for your card. We at ieltshelpnow.com never even see your card details.